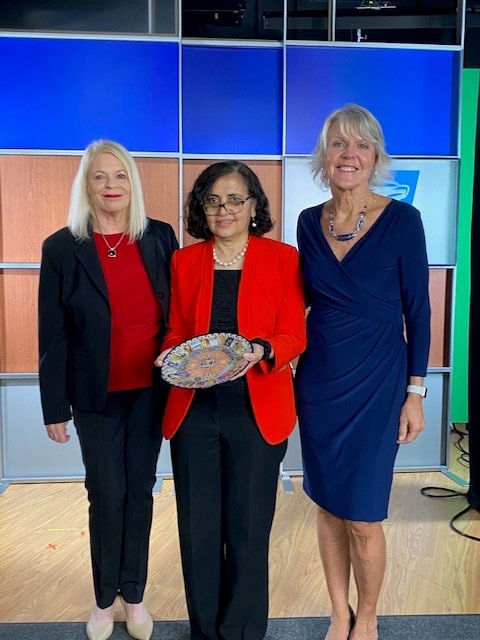 Pritha Mehra (center) holds the Megan J. Brennan Award for Excellence. Shoshana Grove (left) and Anita Pursley (right) are co-chairs of WILDS.

On December 16, 2021, during the Women in Logistics and Delivery Services (WILDS) annual meeting, Pritha Mehra, the Chief Information Officer and Executive Vice President of the United States Postal Service, was presented with the organization's first Megan J. Brennan Award for Excellence.
"Pritha Mehra is a dedicated problem-solver who works tirelessly to advance solutions that mutually benefit the interest of the industry and the Postal Service whenever possible. She's always mindful of the potential pinch points and routinely collaborates with the industry to try to design and implement cooperative approaches that achieve the common needs of the postal service and the mailing and industry shipping industry alike," commented former Postmaster General Brennan in remarks read by Shoshana Grove, CEO of International Bridge and Co-Chair of WILDS, during the awards presentation.
"I am so overwhelmed and honored to receive this first Megan Brennan award. This is wild," Mehra quipped, drawing laughter from the crowd, before going on to say, "I'm talking about WILDS. WILDS is a great group. I'm really impressed with the networking and learning venues that you host, and the culture of growth that you foster. I really want to thank you for this award, and I want to also thank you for the continued and enduring partnership between the industry and the Postal Service."
Before she retired in June of 2020, former Postmaster General Brennan (who is currently the only woman to have held the position of PMG) was approached by WILDs regarding creating an award for someone who embodies the leadership traits that Brennan was known for during her tenure. The three main award criteria are:
• Appreciation for the employees of an organization ─ people on the front lines.
• Ability to work collaboratively.
• Ability to look at problems and opportunities holistically.
Mehra has exhibited many of these qualities during her 31-year tenure with the Postal Service, the last two and a half years as the CIO and EVP. In her role, she is focused on re-envisioning and leading the transformation of the USPS as the organization strives to drive increased security, performance, and customer loyalty. During the Q&A following the award ceremony, Mehra's commitment to collaborative and holistic problem-solving was clear. When asked what some of her key principles are as she is going through the transformational process as the head of technology for the Postal Service, Mehra responded, "The industry is undergoing unprecedented change, and technology is at the root of this change. This is a really exciting time for CIOs. We're all required to stay on top of it, to drive innovation and excellence… First and foremost, understand the marketplace and listen to the customers. Customers have choices, and we must keep in touch with their evolving expectations. So, I focus on the customer and develop customer-centric solutions. I like to use design thinking to generate solutions rooted in customer empathy. And by that, I mean understand customer touchpoints and pain points, and the goals they are trying to achieve at every step of their journey. Bring the customer along with you as you test new ways of meeting their needs."
She went on to say that it's important to have a seat at the table when decisions are being made. "Look for opportunities to participate in strategic planning and execution decisions across the board, whether it's marketing, supply chain, sales, most of all, customer engagement."
She wrapped up the Q&A by reminding attendees to always take stock of where they are in their field and where they'd like to go. She advocated embracing new challenges so as to not get stuck in a rut in one's comfort zone. "Never stop learning… Be mindful of adding dimensions and value to the contributions you make. Contemplate how you can drive quantifiable results in your organization."
WILDS is a nonprofit organization created to promote women's leadership in the postal, delivery and logistics industries and to address the challenges women and minorities regularly face in these industries.